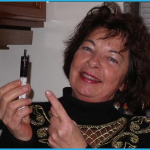 In July 2011, I was diagnosed with Anal Canal Cancer and was given 2 to 4 months to live. My sister told me to watch the movie "Run From the Cure: A Rick Simpson Story" and I decided to treat my cancer with Rick Simpson's cannabis oil instead of chemo and radiation therapy prescribed by my doctor. In September 2012, my doctor declared me cancer free. I had a chance to tell my story during an interview with a local radio station in Nanaimo, BC back in January 2013. This is my story.
Continue Reading

→
Call us today

303-237-1223

Colorado Qualifying Medical Marijuana Card Conditions

Unbearable and Debilitating Conditions
Anorexia, Cachexia
Arthritis
AIDS HIV Infection
Chronic Pain
Chronic Back Pain
Cancer
Glaucoma
Huntington's Chorea
Migraines
Neuropathy
PMS, Painful Periods
Muscle Spasms, MS
Parkinson's Disease
Nausea and others...

Contact Us

Ph | 303.237.1223

Herbal HealthSystems LLC.
4101 East Wesley Avenue Suite 3
Denver, CO 80222

MMJ News & Info.